When I was very young, I was certain that one of the highlights of my mother's high school career was that she got to paint the big toe of her high school's patron, Saint Thomas Aquinas, on a life-size mural inside the school entrance sometime in the mid-1940s.  She was proud of her small contribution to the memory of a beloved saint that she and her classmates hoped would inspire the quest for learning by future generations of Catholic girls on Chicago's South Side.
They could not have had a better saint for that cause. Aquinas, one of the greatest theologians and philosophers of the Catholic Church, believed in the moral dimension of education and the obligation of teachers, as role models for their students, to help others seek truth by way of experience and understanding.
Aquinas Dominican High School, a beautiful brick structure on the South Side of Chicago, closed nearly 40 years later due to declining enrollment and rising costs.  Still, the legend of that toe and the saint to whom it belonged followed me throughout most of my life in one way or another.
My mother loved her school and its namesake so much that when I started first grade at Saint Philip Neri School,  just next door to her alma mater, she gave me a small wooden statue of him, holding the Summa Theologica.  It has endured several big moves, a corner breaking off its pedestal at some point, and today it has pride of place on a bookcase in my office.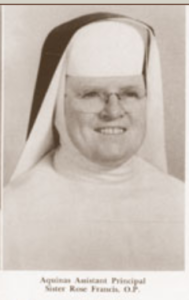 Most of us have a favorite teacher or two, people we remember throughout our lives who made a difference to us. Today, on the occasion of Catholic Schools Week, I want to share my heartfelt thanks to and fond remembrances of these educators, some of whom have gone to their heavenly reward and others who are still with us, all of whom meant a lot to my family and me. Thanks to her experiences, my mother, Joan (Schiavon) Huesca, instilled in my sisters and me a love of education and an appreciation for the value of Catholic education in particular.  One of her teachers, Sister Rose Francis, an Adrian Dominican nun, had a huge influence on her.  To hear my mother say it, Sister Rose Francis was one tough cookie who was as much feared as she was loved by her students for her passion for teaching. Continue reading "The Catholic Educators in our Lives"