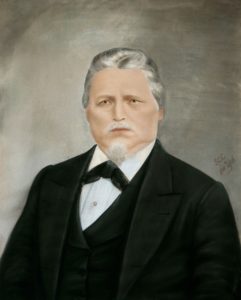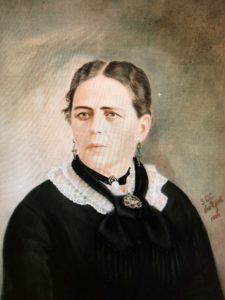 My Dear Great-great Grandparents, François and Catherine,
A reminder popped up on my calendar today that you, Francois, died of meningitis 127 years ago, on May 25, 1891. It prompted me to reflect on your lives and the values you imparted to your descendants, now seven generations strong. As one of those descendants, I write to let you know of the special place we have for you in our hearts even now.
So much of who we are, we owe to you
So much of who we are and why, we owe to you. I can think of three of my father's brothers, three of my cousins, two of my nephews, and one of my sons whose faces mirror yours, François. Catherine, your name has been passed down to so many women in our family – it is the name I chose for my Confirmation. And your fair features have endured, from my great-aunt Blanca on down, through my paternal aunts, cousins, and even in my immediate family, exquisite reminders of your grace and beauty.

There is more. François, your sense of curiosity, mechanical expertise, and innovative spirit has resulted in a host of adventurers, creative thinkers, technology leaders, entrepreneurs, and visionaries. Catherine, your serenity and courage in times of adversity, spirituality, resourcefulness, creativity, and gentleness, continues in the men and women who came after you and drew on these strengths so ingrained in them, becoming loving, faith-filled, and resilient.
Reunion of the heart
Ah, and The Reunion! We, the progenies of two of your five children, Maria Dolores and Francisco, found each other in the summer of 2006. It happened thanks to those legendary stories about you that endured from parent to child, over generations and across oceans and continents.
It was a dream come true that started on the Internet, a technology that didn't exist in your time but that you might have embraced in your far-sightedness. One late-night e-mail led to another and expanded to introductions via telephone, e-mail, social media, and visits between cousins near and far. What a thrill it has been to connect!
As we continue to come together, our commonalities in experience, tradition, and values diminish our differences. We are hard workers and risk-takers, business men and women, survivors, storytellers, and travelers. Some of us are mechanically and technologically inclined or are renowned bakers like you, François. Others, Catherine, are gifted with your talents in the needle arts, or like you, are beacons of love and hope for family, friends, and strangers. Like you, we are deeply passionate about family; we show it in our celebrations and traditions.
The more we learn about you and each other, the more we shed light on ourselves. With every discovery and introduction, we are broadening our understanding of what it means to be family. We are forming new bonds, celebrating with each other in times of joy and consoling each other in times of sorrow.
A love that endures
Dear François, in your last breaths all those years ago, you might have wondered whether Catherine and the children would be all right after you were gone. Of course you know now that everything turned out just fine. The love you and Catherine shared gave birth to a large and wonderful family that is still going strong.
As I pass your portraits on my way to bed each night, I am reminded of how grateful I am to you. Little did you know how you would affect our lives all these years later. There will be more cousins to meet and stories to share. As we renew the bonds of our shared heritage, I hope we will do your memories justice by resolving to pass on to our descendants that love of family that came from you and your own ancestors. Thank you for your love, François and Catherine, and be sure of all of mine.
Linda
Copyright ©  2018  Linda Huesca Tully