Joan Joyce (Schiavon) Huesca
   1928 – 1987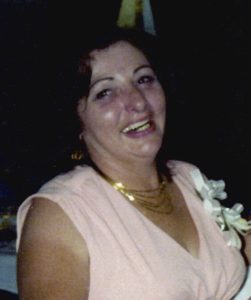 Today, on this Fourth of July, as the United States turns 242 years old, my mother, Joan (Schiavon) Huesca, would have turned 90.
We lost her 31 years ago this Fall.  Sometimes it seems as though I saw her only yesterday. Other times it feels like it was a lifetime ago.  But I always smile when I think of her on this day.
Having a birthday on Independence Day was an important part of my mother's identity.  She used to say she was born with a bang; her uncle John McGinnis was so excited that he set off firecrackers under some of the overpasses in his neighborhood to celebrate.  As a little girl, she believed for many years that all the parades and firecrackers were just for her.

Her mother, Alice (McGinnis) Schiavon, had her own honor of being born on another patriotic holiday, June 14th, Flag Day.  As a youngster, I used to think it was a shame no one in our family had a birthday on Memorial Day (then called Decoration Day), just two weeks before that, when everyone began putting their flags out for the summer.
A Yankee Doodle Dandy
Our mother would lead my sisters and me in song around the house in the days leading up to those holidays.  We knew every patriotic song there was.  The family favorite was God Bless America, followed by My Country 'Tis of Thee and Yankee Doodle Dandy.  She didn't think her voice was good enough to sing around others, but at home she sang with gusto, and we loved it.
For us, the Fourth of July was a double celebration – of the birth of our mother and the birth of our country, in that order.  Our father, Gilbert Huesca, would wake us up at dawn to serenade our beloved Birthday Girl, beginning with the Mexican Las Mañanitas, followed by a rousing Happy Birthday, first to her and then to the United States of America.
Later that morning, Mamma would braid our hair, tying the ends of our pigtails with colorful red, white, and blue ribbons, and dress us up in matching clothes.  She and my father and the other neighbors would barbecue hamburgers and hot dogs in the driveway and line up their lawn chairs to watch as we and our friends staged makeshift parades.  We grandly marched, roller skated, and rode our tricycles up and down the block, waving our little flags in the air to great fanfare. You can guess who our biggest cheerleader was!
When we lived in Mexico City for a few years during the mid-1960s, our parents thought it was only right that we should become fluent in Spanish and take part in the culture and customs there. At our public school, we studied Mexican history, learned to sing the national anthem, and honored the Mexican flag in school assemblies and on Mexican Independence Day. And on the Fourth of July, it was equally a given that we sang God Bless America, ate hot dogs and hamburgers at home, and flew our flag in the living room window.  One year we even attended a small parade put on by some fellow expats in what was known as the American colonia, or neighborhood.
Honoring Flag and Country
For as long as I can remember, my parents were always the first on the block to fly the American flag on holidays.  At some point, they decided to fly it every day, from sunrise to sunset.  They flew the flag my father had received when he took his oath as a naturalized American citizen in 1960.  It still had 48 stars, though Hawaii and Alaska had joined the union the year before.  Concerned that it would eventually wear out, they got another flag with all 50 stars.  Ultimately, though, Mamma insisted that my father's "citizenship flag" be the one we should always fly, as it symbolized an important event in our family's history.  And so it was.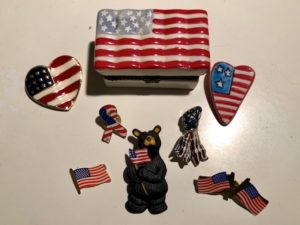 Mamma believed that one's love of country included exercising one's obligation to participate actively in the electoral process.  She and my father considered voting a sacred duty.  They never missed an election.  It was a great honor when the local registrar of voters authorized them to offer their home as a polling place. In typical fashion, she cheered each of us on when we registered to vote, the same way she had done during all those parades when we were children.
It wasn't that she considered patriotism to be cut and dried or a matter of blind loyalty. More than once, she contacted her state assemblyman and her congressman to express her views on issues of the day.  Certain events disappointed and dismayed her, but she stuck to her faith in the founding principles of our democracy, steadfast in her conviction that it could weather any storm.
She welcomed the opportunity for civil conversation with others of differing positions. Though she had a way with words and was a skilled debater, the conversations that meant the most to her were those that prompted the evolution of her own views as she gained new perspectives – and often, new friends.
Coming Home for the Fourth

As an adult, coming home for the Fourth of July was a must. Our Birthday Girl would run out to greet us and often gift us with a small token of the occasion, such as a pin of the American flag to wear.  Then she'd lead us into the dining room, where she had decked out the table in the colors of the day and prepared a delicious homemade meal.  Late into the night, we'd sit on the couch and have long and wonderful conversations.  Typically we'd talk about life and family and faith, but on the Fourth of July we'd find ourselves reflecting  on the meaning of citizenship and how our values of liberty, valor, equality, and justice guided our actions.
On Mamma's last birthday in 1987, we went to the Stanislaus County Fair in Modesto.  It was a hot day. She had begun to suffer some of the side effects of radiation treatments for lung cancer, but she was adamant that we go anyway. Wearing a wide-brimmed straw hat and dressed in white slacks, a navy blue blouse, and a red scarf around her neck to protect it from the sun, she beamed like the Yankee Doodle Dandy she had always been.  It was still her day, and we would celebrate as we always had.
Carrying on Traditions

My parents have gone on to the Lord, but my husband and I have tried to instill in our children the same values and traditions that both sets of our parents shared with us.  I send up a prayer for my mother, along with my wish for a happy birthday, the first thing in the morning on the Fourth of July.  These days, we go to the Santa Cruz Mountains, about an hour from our home, where we attend the Boulder Creek Volunteer Fire Department's annual pancake breakfast and watch their small-town parade.
It is particularly special to us because our daughter, who happens to be very much like her grandmother, is a first-year volunteer firefighter with the department.  I think it would be meaningful to my mother, too, because she was rescued by a group of firefighters from the top floor of a burning building many years ago.
Our children were born after my mother died, but they know as much about her as anyone could from our family stories.  Now, every Fourth of July, when they call or visit, each of them makes sure to let me know they are thinking of their grandmother – their Nana, and wishing her a happy birthday.
My mother would have loved that.
Copyright ©  2018  Linda Huesca Tully