The Carpenter of Mission San Jose
Joseph Edouard Baron (1825 – 1921)*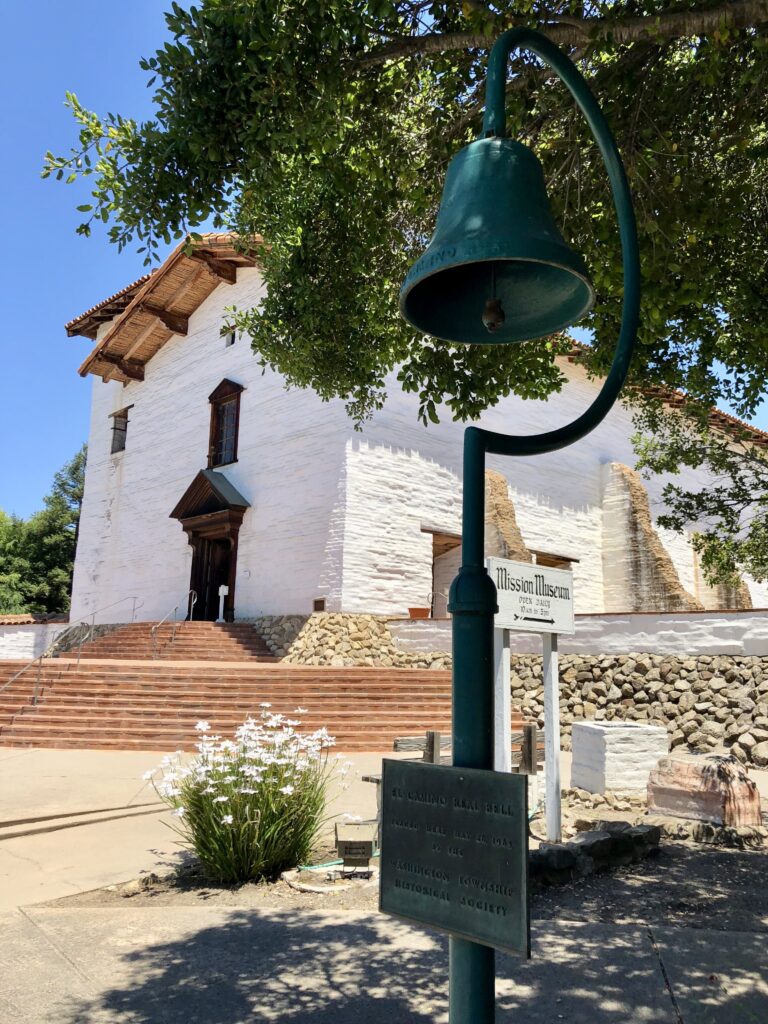 Everyone has a story. Whether you discover that story depends on how much effort you're willing to put into getting to know that person. And if you take the time and dig deep enough, you might find that the seemingly most ordinary person is surprisingly extraordinary.
Something about Eduard Baron* told me his was an unfinished story.  My husband's paternal great-great-grandfather, he left his native France as a young man for San Francisco in 1849 in search of gold.  He settled in the Santa Clara Valley, married, had five children, and became an American citizen before moving his family to Arizona.
Yet despite his having lived within driving distance of our home, first in Washington Township and later in San Jose, the details of his life in those places eluded me for years.

Late one Saturday night a few years ago, I stumbled on Eduard's name in an online index mentioning a business contract and receipts for work that he and a fellow carpenter had performed on the church and house at Mission San Jose. The receipts were part of the Inventory of President's Papers, Papers of John Nobili, S.J., at the Santa Clara University Archives.
The other carpenter had a familiar name: Jules Audrain. I had seen Jules' name before in the 1852 California State Census, indicating he and Eduard lived in San Jose. Wondering if he was a cousin or a friend of Eduard's, I had tried learning more about him but came up dry. Yet here was his name again as one of the signers of the receipts.
There was a third signer whose name I did recognize: Father John Nobili, S.J.
Father Nobili, a Jesuit priest and one of the giants of the early days of the Santa Clara Valley, not only had been president of the California missions at one time but also, and more significantly, founded Santa Clara College, known today as Santa Clara University.
In French and dated December 14, 1852, the business contract and receipt were part of a collection of his personal papers.
As soon as I could arrange it, I took an afternoon off and scurried over to the university library, a short drive from my office. It didn't take the archivist long to find the legal-size green-gray folder containing the papers, which were in French. I gave silent thanks for falling in love with the language years before and eagerly began translating the contents into English.
That's when I discovered the document was more than just a series of paystubs. It was a legal settlement for a little-known event that would come to be known as the Mission San Jose Scandal.


* Note: Historical documents reveal that after arriving in the United States from France in 1849, Joseph Edouard Baron dropped his first name so that he was known as "Eduard, " a simplified variation of his name that left out the "o" from the French spelling. In Arizonan and Mexican historical documents, his name took on the Spanish version of "Eduardo." This article uses his preferred name, Eduard.
Next: Part 2 – Clues on the Ancestry Trail
To read all the episodes in this series or to find other stories about the Baron family, click here.
Copyright © 2021 Linda Huesca Tully
Tagged: Tags Eduard Baron Jules Audrain