The Carpenter of Mission San Jose
Joseph Edouard Baron (1825 – 1921) *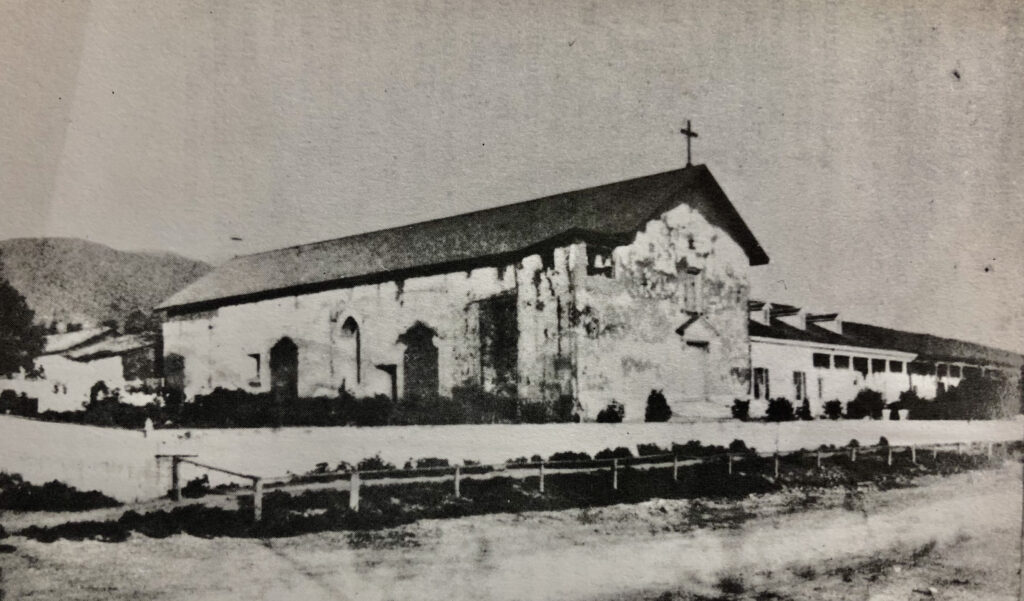 While it was unheard of for a priest such as Father Joseph du Lin to take possession of a church as his own property, it was not unprecedented that Eduard Baron* and his co-workers took control of the living quarters at Mission San Jose. Early common law in European countries such as Spain and France allowed artisans to take possession of property until they received compensation for their labors and materials. Originally called an artisan's lien, the right to claim pay for work performed evolved into what we know today as a mechanic's lien.
When word of the double occupation reached Father John Nobili, the bishop's delegate in the matter, he moved quickly to protect the sacred space of the mission church and had du Lin and his uncle, Mr. Chaumont, evicted. Four days later, Bishop Joseph Alemany removed du Lin's ecclesiastical faculties.
Suspension of faculties is a serious penalty by the Catholic Church and can be made only for grave reason. Though du Lin remained a member of the clergy, he was prohibited from exercising public ministry, including celebrating Mass, preaching, confessions, and baptisms (except in case of imminent death). To avoid further scandal and ensure the penalty would stick, the Vicar General wrote to all the priests in the Diocese, notifying them that du Lin was no longer a priest in good standing and was unsuitable for ministry.
The mission church was back in the hands of the parish, but the living quarters remained occupied by six workers*, including carpenters Eduard Baron and Jules Audrain. Having watched the sheriff evict Father Joseph du Lin and his uncle, Mr. Chaumont from the church, Father Anthony Langlois was certain the workers would be thrown out just as expeditiously.
But Bishop Joseph Sadoc Alemany was guided by a broader vision. As crucial as it was to restore and preserve the sacred integrity of Mission San Jose, the pastoral care of souls – all souls, not just his parishioners – was equally important to him. He felt a moral obligation to the six young men who had labored on the mission and perhaps had even provided materials for months without pay.
At his direction, Nobili, who was of the same mind, negotiated a compromise with the workmen and their attorneys, agreeing to pay a portion of the money owed by Father du Lin in exchange for the peaceable surrender of the occupied rooms at the mission. The men retained the right to sue du Lin for the balance.
The money came from the Pious Fund of the Californias, a reserve established in 1697 and sustained by donations given by the faithful to support the California missions. Eduard Baron and his associates were about to receive the justice they had sought for so long.
On July 22, 1852, the workmen ended their two-week-long occupation of the living quarters of Mission San Jose and peaceably surrendered possession to the Catholic Church. Eduard and Jules were granted the largest settlement of the six, totaling $1,500, a little over half of the $2,700 owed them. Split evenly, that meant each man received a sum equivalent to about $26,000 as of this writing in 2021.
The settlement, written in English and French, was witnessed by Peter Burnett, the first American governor of California. It was memorialized in the document I first discovered in the Santa Clara University archives.
Eduard married Concepción Celaya that same year. They would go on to have five children and eventually moved to Tucson, Arizona. Eduard died in 1921 at age 93 in Tucson, barely four years after Concepción's death at age 86 in 1917.
Other than the 1852 Census record showing Jules Audrain living in San Jose with Eduard that September, there is no trace of him after the settlement nor clues as to whether he was Eduard's friend or relative.
Father Nobili tirelessly continued expanding and improving the young Santa Clara College, earning the institution accolades for its literary and scientific scholarship. On March 1, 1856, he died of lockjaw after he contracted tetanus from stepping on a nail. He was 44 years old.
After disappearing again, Father du Lin faced more litigation dealing with additional unpaid debts. The records on him pretty much dry up after that, suggesting he left the area and possibly the country.
Father Anthony Langlois was transferred to Mission San Luis Rey in early 1853, later entering the Dominican order as Father Augustine. He died in Martinez, California, in 1892.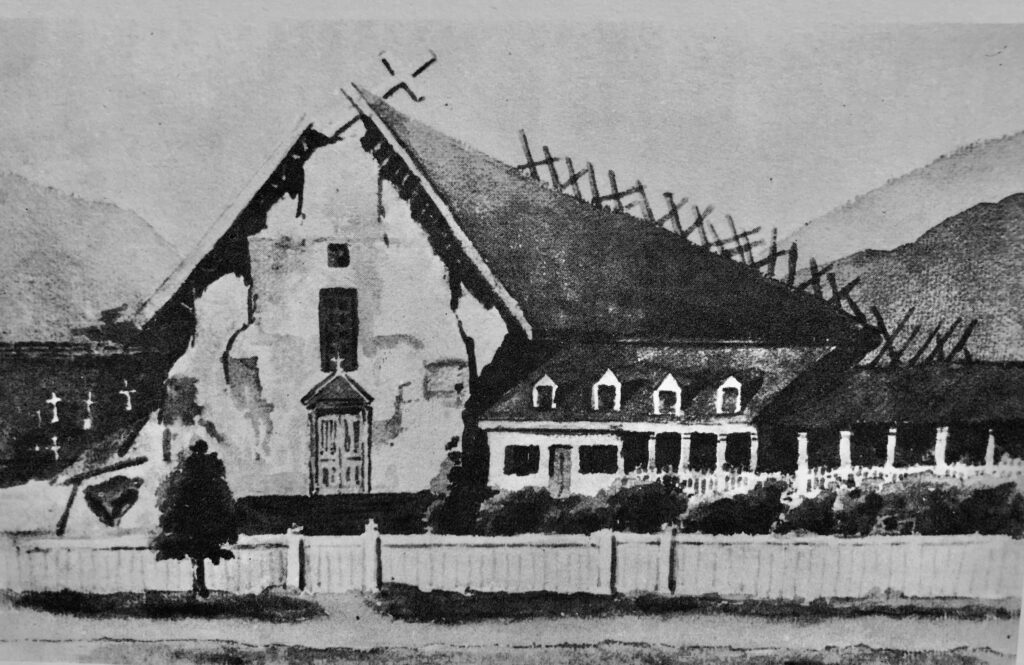 In 1868, the violent Hayward Earthquake destroyed the mission church and most of its buildings. It was rebuilt a year later as a wooden, Norman-Gothic style church, nothing like the original. In the early 1970s, efforts began to rebuild a replica of the original mission church, and it was finally dedicated in 1985. Whitewashed and pristine, it remains a holy center of faith and a quiet repository of the sometimes forgotten stories of the men and women whose lives would be forever intertwined with its history.
* Besides Eduard Baron and Jules Audrain, the other workers included carpenters Jean DuPont, Bernard Garance, Jean Salavert, and a plasterer named "Tabbit."


* Note: Historical documents reveal that after arriving in the United States from France in 1849, Joseph Edouard Baron dropped his first name so that he was known as "Eduard, " a simplified variation of his name that left out the "o" from the French spelling. In Arizonan and Mexican historical documents, his name took on the Spanish version of "Eduardo." This article uses his preferred name, Eduard.
Work Cited
Mission San Jose Business Contract. July 22, 1852. Archives and Special Collections, 3DB01 Papers of John Nobili, S.J. 1851 – 1856, Santa Clara University.
To read all the episodes in this series or to find other stories about the Baron family, click here.
Copyright © 2021 Linda Huesca Tully