A Couple on the Move
Joseph Edouard Baron (1827 – 1921) *
María Concepción Celaya (1829 – 1915)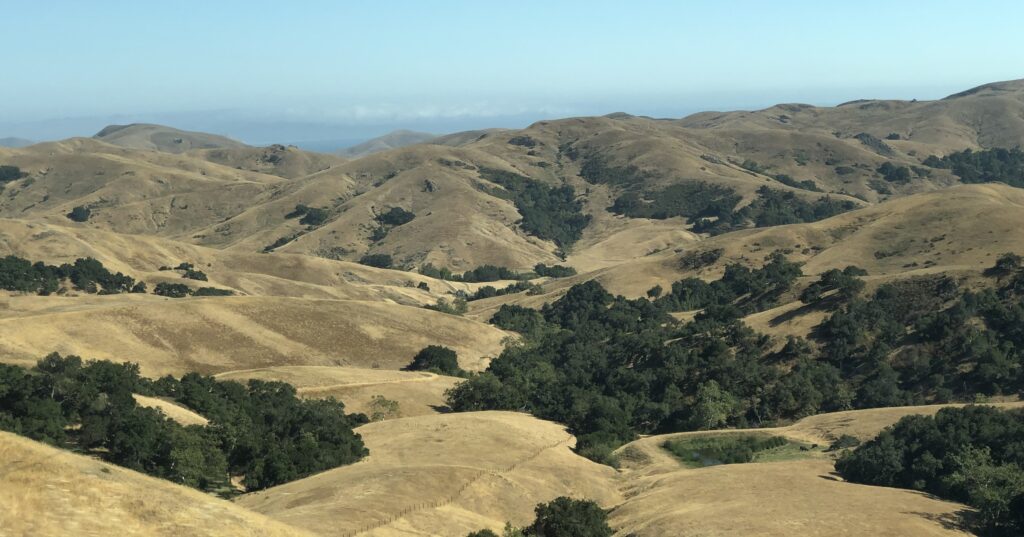 Santa Lucia Mountains, California. Linda Huesca Tully, 2021.
If you have read the 10-part series on this blog about Eduard Baron's experiences at California's Mission San Jose, you may have thought that was all there was to know about him. But there was more, and it was all about family.
Family came first for Eduard Baron. Although he had left his parents, sisters, and brothers behind when he came to the United States from his native France in 1848, he readily embraced as his own the Mexican family of his bride-to-be, Concepción Celaya. In late 1852, after receiving payment for his carpentry work at Mission San Jose, he married Concepción, and they settled into a new life as tenant farmers in nearby Vallejo Mills (known today as Niles), near her family.
An elusive marriage record
After all the fuss at Mission San Jose that stood in the way of Eduard and Concepción's wedding, it would be natural to assume they were finally joined together there, it being their parish of residence and the church Eduard worked so hard to renovate. (In fact, Concepción's sister, Fermina Celaya, married Presentación Bernal there in 1850.) However, nothing seems to have been simple for Eduard and Concepción, and their marriage record remains elusive.
Records for the mission are currently not accessible for examination, rendering it impossible to verify whether the couple was married there. Furthermore, there is no mention of them in the sacramental record books of the nearby churches in Santa Clara and San Jose at the time: Mission Santa Clara, Saint Joseph Parish (now Saint Joseph Cathedral Basilica), and Saint Anthony Parish. Notre Dame Parish in San Francisco (the French parish where Father Anthony Langlois served), would be a long shot because of distance, but that parish does not have any records of the Baron-Celaya marriage, either.
Even if they were married at Mission San Jose, it is possible that the event was never recorded. This may be surprising to some. The Catholic Church is historically excellent at keeping sacramental records, thanks to Canon law, which mandates such recordkeeping as a vital instrument in a Catholic's life in the Church. But the reality was that some itinerant priests, however good, were not as diligent on the frontier. This was the case with Father Dominic Blaive, the traveling priest from Stockton who stayed at the mission during the du Lin scandal. Historical documents reveal he did not always record the marriages he performed at his own Stockton parish.
To complicate matters more, the civil marriage records for Santa Clara County, which at the time encompassed the territory from Fremont (to the north, where the mission is located) to San Jose and Gilroy (to the south), come up dry. Therefore, while we can assume the Barons were married at Mission San Jose, we may never be able to prove it.
A couple on the move
It was common for Californians of Mexican descent to travel to Mexico, where they maintained family and cultural ties. This was especially true of the Barons. If anything, they were an extraordinary couple in that they traveled frequently in an era when such movements were challenging at best.
Both had come long distances to reach California during the Gold Rush. Eduard had sailed across the Atlantic from France and continued overland to San Francisco, while Concepción and her family had come overland from Mexico north to Alameda County. Neither seemed daunted by lengthy travel, and they proved to be sturdy of health and intrepid of spirit, journeying frequently to Concepción's native state of Sonora.
Despite the challenges of frequent travel, the couple had five children. While there were Catholic churches all around them, they made the remarkable choice to baptize each child in Mexico. This meant that every time a child was born in California, the family made the trek south to Guaymas, Sonora, on Mexico's West Coast, baptizing him or her anywhere between one and six months of age. Such was the case for the two of the older children – Adolfo [1] and Adela [2], who were born in California but were baptized at San Fernando Parish in Guaymas, Sonora, on Mexico's Pacific Coast. The Baron's eldest son, Eduardo, Jr. [3], and their two youngest children, José Manuel [4] and Teresa [5], were born and baptized in Guaymas at San Fernando Parish.
Why the Barons brought their children to be baptized in Mexico is a mystery, as traveling from northern California to Mexico was no small feat for a family with young children in the mid-1800s.
The distance from the Baron's home base of Mission San Jose to Guaymas is over one thousand miles. Notwithstanding the cost (possibly financed by Eduard's pay and settlement from his work at the mission) and regardless of how they got to Mexico, the travel experience itself posed numerous difficulties and was particularly grueling for mothers and infants. Conditions were largely unsanitary. Mothers had no privacy when breastfeeding. With limited access to medical care, they had to rely on basic knowledge to care for their children in case of illness. They had to improvise when it came to changing diapers and putting children to bed safely. Moreover, they had to protect themselves and their children from exposure to the often harsh elements, which could be unforgiving to vulnerable babies.
The birth records for all five of the Baron children are as elusive as their parents' marriage record. There are only secondary records to go on: baptismal records, federal censuses, death records, and obituaries. In Adela Baron's case, there is also family lore, though that is not necessarily reliable.
Eduard eventually moved his family to San Jose, where he was sworn in as an American citizen at the federal courthouse on November 5, 1866. He registered to vote on the same day.
Concepción, now 43, must have been in Sonora at the time, because she gave birth there to the couple's fourth child, José Manuel, four days earlier. Eduard joined her in Guaymas soon after his naturalization, and they had the baby baptized on December 20th of that year at San Fernando Parish.
From California to Arizona
According to José Manuel's obituary and death certificate, the family moved to Arizona sometime after his birth. The move may have been prompted by the Great Hayward Earthquake that struck the San Francisco Bay Area on October 21, 1868.
Centered on the Hayward fault in the East Bay, the violent quake was estimated at a magnitude between 6.3 and 6.7. It killed 30 people and destroyed buildings in San Francisco, San Jose, and Alameda County.
Mission San Jose sustained the greatest damage. All the work Eduard Baron and his companions had put into the restoration of the adobe church 16 years earlier was undone in 67 seconds.
Making a new start in Arizona would be a welcome change.
* Note: Historical documents reveal that after arriving in the United States from France in 1849, Joseph Edouard Baron dropped his first name so that he was known as "Eduard, " a simplified variation of his name that left out the "o" from the French spelling. In Arizonan and Mexican historical documents, his name took on the Spanish version of "Eduardo." This article uses his preferred name, Eduard.
Copyright © 2023 Linda Huesca Tully
Next: Part 2: A New Chapter in Arizona
To read more stories about the Baron family, click here.
———-
Endnotes:
1. Adolfo Baron. Born May 1856, (Vallejo's Mills?) California. 1900 United States Federal Census. Ancestry.com. Online: (https://www.ancestry.com/imageviewer/collections/7602/images/4113683_00603?pId=14769769: accessed November 14, 2023)
2. María Adelina "Adela" Baron. Born April 1862, San Francisco, California (place of birth per oral history). Baptized December 3, 1862, San Fernando Parish, Guaymas, Sonora, Mexico. Mexico, Parish Records, 1657 – 1994. FamilySearch. Online: (https://www.familysearch.org/ark:/61903/1:1:DJ7G-DZZM: Fri Oct 06 20:22:18 UTC 2023): accessed November 14, 2023)
3. Eduardo Baron, Jr. Born 1853, Guaymas, Sonora. FamilySearch. Online: (https://www.familysearch.org/ark:/61903/1:1:QGSS-F27F: accessed November 14, 2023)
4. José Manuel Baron. Born November 1, 1866, Guaymas, Sonora, Mexico. Baptized December 20, 1866, San Fernando Parish, Guaymas, Sonora, Mexico. Mexico, Catholic Church Records, 1657 – 1994. Ancestry.com. Online: (https://www.ancestry.com/imageviewer/collections/60993/images/004087143_00145?pId=402768: accessed November 14, 2023)
5. Teresa Baron. Born October 15, 1870. Baptized November 14, 1870. Baptism Record, Sonora, Mexico, Catholic Church Records, 1657 – 1994. Ancestry.com. Online: (https://www.ancestry.com/imageviewer/collections/60993/images/004087143_00485?pId=405143: accessed November 14, 2023)
———-
Tagged: Tags Concepción Celaya Eduard Baron María Fermina Celaya Presentación Bernal