A New Chapter in Arizona
Joseph Edouard Baron (1827 – 1921) *
María Concepción Celaya (1829 – 1915)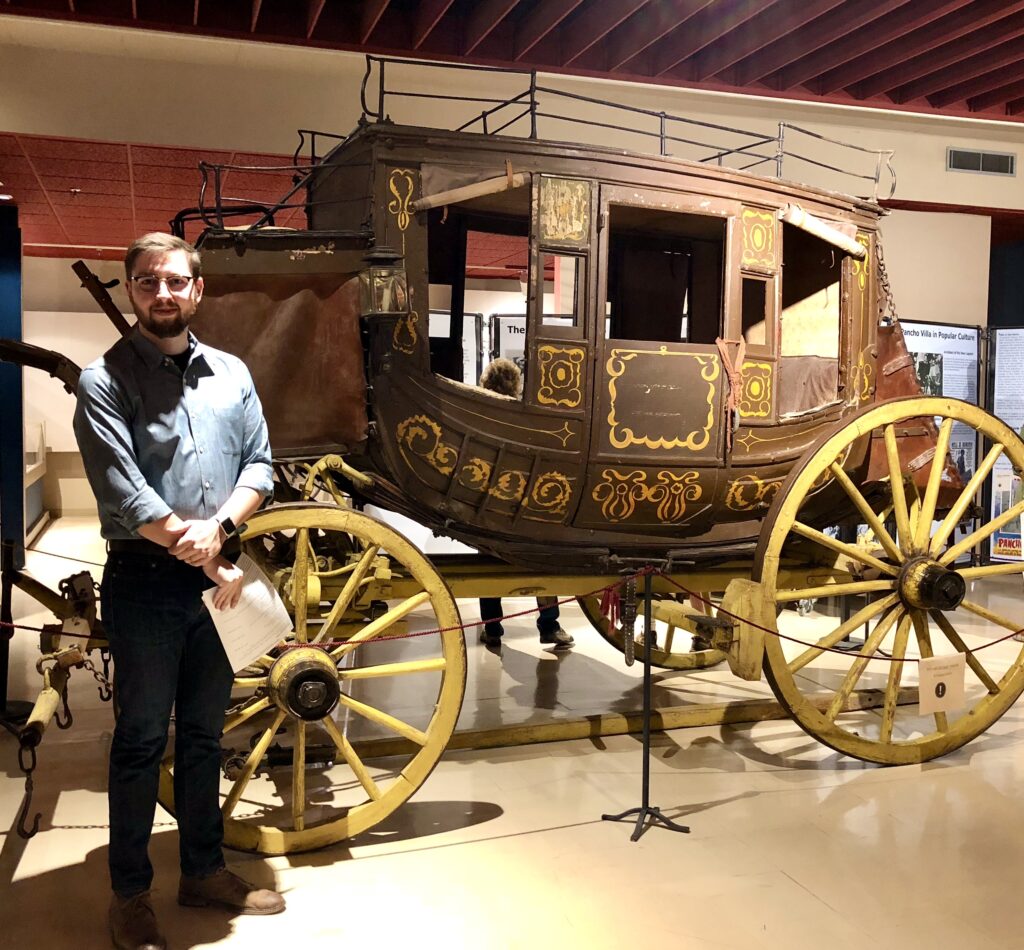 The most likely reason that Eduard and Concepción Baron moved their family to the Arizona Territory was Concepción's longing to be near her Mexican birthplace of Altar, Sonora. We do not know where her parents, Diego Celaya and Belén Velázquez, were at this time, or even if they were still alive. Whether they had already died in California or returned to Sonora, Concepción likely felt the need to be near her relatives who lived in Altar and Guaymas.
Now that Eduard had become a U.S. citizen, he would not have wanted to move permanently to Mexico. A good compromise, however, would have been moving to Tucson, 145 miles north of Altar. He obliged his wife and moved the family to the southern Arizona town, settling in the Barrio Viejo neighborhood.
In 1870, Tucson counted a population of 3,224 residents. It had no sidewalks, and the unpaved streets were dusty and subject to flash flooding during the rainy season. Water was scarce; it was hauled in by cart and sold for a nickel a bucket. Most houses were built of adobe and had outhouses. The Barons would have found this a significant change from their simple yet more comfortable home in Mission San Jose, yet they adapted to their new life with a pioneer spirit.
Nonetheless, they faced more than just an adjustment to a new home. Life in southern Arizona was a daily struggle for survival. The Apaches controlled the vast desert surrounding Tucson, the capital and military headquarters of the Arizona Territory, and most people lived in fear of an Apache attack, especially outside the town confines. Although the United States Army was charged with protecting citizens from such raids and murders – frequent occurrences – they were largely unsuccessful.
Despite the daily reports of attacks, there was a lot of movement between Tucson and Altar at the time due to silver mining and family connections. and in 1870, a new stagecoach service was inaugurated to link the towns. It was not necessarily a comfortable ride – passengers felt every jolt and had no air conditioning in scorching weather – but it made travel a little easier, if not safer.
Astonishingly, the Barons were undeterred by the risks and continued to venture, seemingly unscathed, into Sonora. Their youngest child, Teresa Baron, made her entrance into the world in Guaymas, Sonora, on October 14, 1870. Eduard and Concepción had her baptized there at San Fernando Church a month later.
The Baron's sons and daughters led diverse lives, each contributing to the family's story in unique ways. The eldest child was Eduardo Baron, Jr., who started as a carpenter like his father and built cabinets. He married Margarita Márquez and moved to Hermosillo, Sonora, where they started a family, and he became the city postmaster. He died in nearby Magdalena, Sonora, on October 28, 1931.
Like his brother Eduardo Jr., Adolfo Baron also became a carpenter, doing millwork. He did not marry but moved around the state and even to California, living in San Bernardino for a while. His name fades from official records after that, including his date and place of death.
María Adelina (called Adela) Baron married Charles Hoppin Tully, a newspaper editor, translator, and educator, in 1878. They had 13 children (one of whom, Arthur, was my husband's grandfather). She died on June 10, 1917.
The Baron's fourth child, José Manuel, became a railroad engineer and, with his wife, Josefa Gillette, had 11 children before his death in Tucson in 1949.
Teresa Baron, the youngest of the Baron siblings, married Edward Gómez, a notary and interpreter. They settled in Greenlee, Arizona, near the New Mexico border, and had a daughter, Rena. Teresa died in 1962 in Los Angeles.
By 1910, Eduard and Concepción, at ages 83 and 81, respectively, had moved in with the Tullys at their home at 320 South Convent Avenue in Tucson. Although the house was already full, it was a happy time for the family. Eduard and his son-in-law, Charles, both Arizona pioneers, enjoyed reminiscing about the early frontier days, while Concepción and Adela sewed together and exchanged confidences as only a mother and daughter can. Being together with their family was sheer delight for the Barons, who also shared stories and wisdom with their beloved grandchildren and happily witnessed their coming of age.
Concepción contracted bronchitis in August of 1914. Despite Tucson's dry air, she was unable to fight it off and succumbed to it seven months later, on March 16, 1915. She was 85 years old.
Eduard believed in staying active, and he continued his carpentry work until age 91, when he finally retired. When his older daughter, Adela, became seriously ill, Eduard decided he could not be a burden to her family and moved to Greenlee to live with Teresa Gómez and her family.
Eduard Baron, too, had been declining for several years from heart disease. He suffered from myocarditis, an inflammation of the heart muscles that can cause irregular heartbeats, chest pain, fatigue, and shortness of breath. He was 94 years old when he died on July 11, 1921.
His obituary appeared on the first page of The Copper Era and Morenci Leader of Clifton, Arizona. It noted that Eduard was "free from all superstition. He was, even to his last moments, possessed of all his mental faculties. He passed away, making peace with his Creator and the world in general."
The obituary continued, "He lived with the firm and fixed idea that acts of charity would never die. 'For an act of kindness,' he would say, 'is an immortal virtue, one that most exalts him who wishes for his fellowman (sic) what he desires for himself.' He was poor but enjoyed the confidence and esteem of all who knew him as a loyal friend and a kind father."
With their diverse journeys and contributions, the Baron family is a testament to the strength that comes from embracing heritage while forging new paths. Eduard and Concepción's commitment to family through trials, large and small, was evident in their enduring bond and shared stories.
Their final resting place at Holy Hope Cemetery in Tucson symbolizes not only the end of their earthly journey but also their enduring connection with the beloved family that surrounds them. Marked by sacrifice, love, and an unwavering spirit, their story echoes through time as a witness to the enduring power of love and familial bonds.
Copyright © 2023 Linda Huesca Tully
To read Part 1 of this story, A Couple on the Move, click here.
To read more stories about the Baron family, click here.
Tagged: Tags Baron Family Charles H. Tully Concepción Celaya Eduard Baron