The Carpenter of Mission San Jose
Joseph Edouard Baron (1825 – 1921) *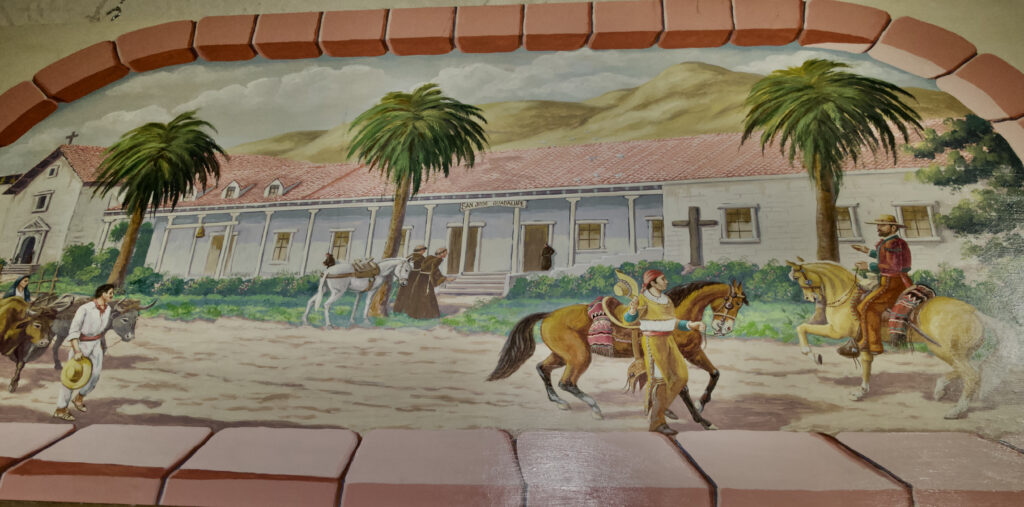 Though Eduard Baron* and Jules Audrain had been attracted to the climate and beauty of the town of Mission San Jose, it was an intriguing job offer in 1851 to restore the mission itself that sealed their decision to put down roots there.
Mission San Jose, founded on June 11, 1797, by Spanish Franciscan missionaries, was the 14th of the now-legendary California missions. Strategically situated on the Camino Real, or King's Highway connecting all 21 missions from San Diego to Sonoma, its purpose was to convert the native Ohlone population to Catholicism. Now part of the modern-day city of Fremont, it sat on a hillside at the eastern end of the San Francisco Bay and 15 miles northeast of the Pueblo (and current city) of San Jose and the nearest mission, Santa Clara. The ideal location made it a viable hub of commerce and a convenient stopover for travelers going to San Francisco, Stockton, or Sacramento.
Broad brick buttresses supported the church's four-foot thick white-washed adobe walls. Adobe tiles made on the premises covered the roof, and timber beams from redwood trees to the north stretched across the thatched ceiling. The first thing the faithful saw as they entered the airy interior was an elaborate altar and tabernacle, surrounded by dramatic statues brought from Spain and Mexico and accented by intricate hand-painted borders and chair rails along the walls.
Adjoining the church was a long building housing the padres' living quarters, guest rooms, a school, a dormitory for unmarried native women, a kitchen, and a weaving room. In the traditional mission style, the structures bordered a large square courtyard overlooking lush gardens filled with vegetables, grapevines, and native flowers: roses, geraniums, nasturtiums, and lantana. Fruit trees abounded: apple, cherry, fig, pear, peach, apricot, plum, orange, olive, and pomegranate.
Sadly, in the half-century since its founding, the mission fell into decay due to changes of ownership, political and religious neglect, weather and termite damage, and misuse by squatters. Recognizing the need to establish stability and restore sustainability to the mission, the Bishop of Monterey, Joseph Sadoc Alemany, assigned a newly-arrived French priest, Father Joseph du Lin, as curate in 1851. This being his first assignment in California, he would report to Father John Nobili, the Jesuit pastor of Mission Santa Clara and founder of the fledgling Santa Clara College, the first institution of higher learning in California.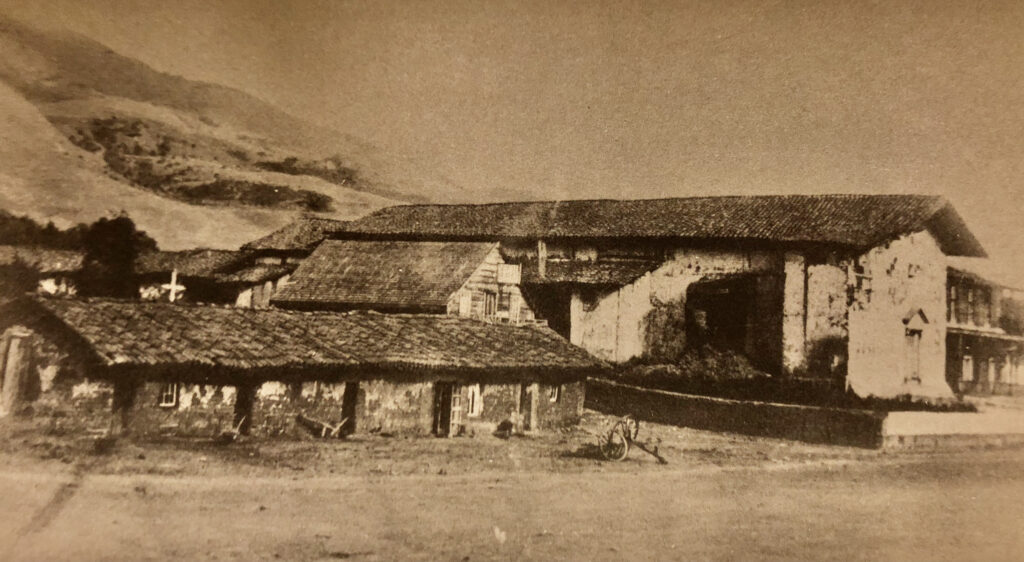 With Father Nobili busy with his work in Santa Clara, Father du Lin took it upon himself to restore Mission San Jose. He hired a mason, artisans, and carpenters, including Jules and Eduard, to perform badly-needed renovations on the mission church and its buildings and promised them generous wages for their extensive work. It was an offer that was hard to refuse.
What Eduard and Jules could not have known at the time was that Father du Lin was moving ahead quickly on his project without being honest with his pastor or bishop about its scope or the costs involved.

* Note: Historical documents reveal that after arriving in the United States from France in 1849, Joseph Edouard Baron dropped his first name so that he was known as "Eduard, " a simplified variation of his name that left out the "o" from the French spelling. In Arizonan and Mexican historical documents, his name took on the Spanish version of "Eduardo." This article uses his preferred name, Eduard.
Next: Part 4 – Days of Romance and Bliss
To read all the episodes in this series or to find other stories about the Baron family, click here.
Copyright © 2021 Linda Huesca Tully
Tagged: Tags Eduard Baron Jules Audrain