The Carpenter of Mission San Jose
Joseph Edouard Baron (1825 – 1921) *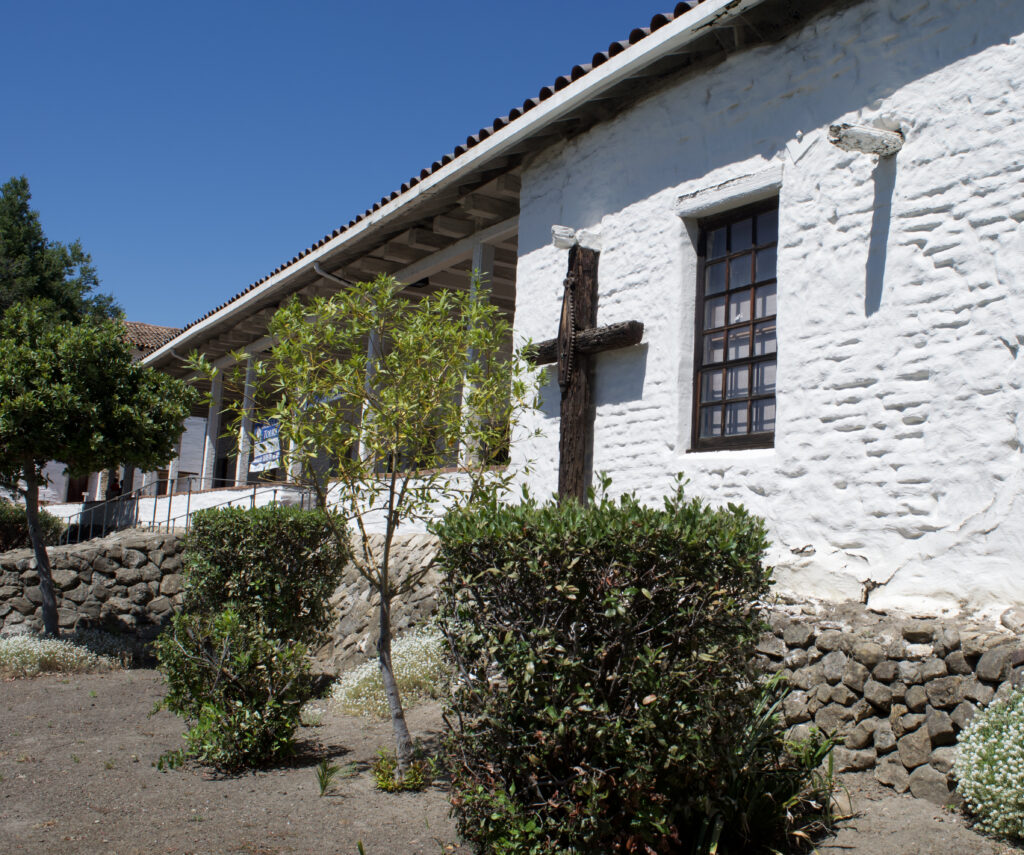 The first sign that something was amiss at Mission San Jose appeared in a letter, dated August 4, 1851, from Joseph Sadoc Alemany, Bishop of Monterey, to Father John Nobili, the Jesuit he had appointed pastor of Mission Santa Clara. In the letter, he briefly mentioned communication from Father Joseph du Lin, the French priest in charge of Mission San Jose, regarding an unnamed "serious" matter.
Four days later, in a second letter, Bishop Alemany expressed reservations about du Lin's taking on too many improvements at the mission. "I did make a few gentle reflections to him about the visible advances and works that he was undertaking," he wrote, "also asking him to be careful to not go into debt." He went on to say he had summoned du Lin to San Francisco to meet with the Diocesan Vicar General, Father Anthony Langlois, about his activities.
The letters to and from Nobili suggest that as pastor of Santa Clara and founder of Santa Clara College, the first institution of higher learning in California, he had earned the respect and trust of his bishop and peers. At age 39, he had been ordained for the Society of Jesus in Rome only eight years earlier, had taught in two Roman colleges, and performed missionary work in Oregon and Canada before arriving in California in 1849.
The indefatigable Jesuit, whose analytical mind reflected his background in physics and mathematics, was known for being farsighted and judicious. The Santa Clara University Archives collection of his papers from 1851 – 1856 offers a condensed snapshot of the daily myriad of events and issues he faced with discretion and prudence. Small wonder, then, that Bishop Alemany had delegated him as his representative in various matters, including that of the affairs of Mission San Jose.
Conversely, Joseph du Lin's life was more obscure than that of the august Father Nobili. Few records mention him other than a June 25, 1850, letter of recommendation to Bishop Alemany from a bishop in New York and correspondence between Father du Lin and the Monterey diocesan administrators and others of the time. Du Lin's letters, written mainly in French, are scrawled and impulsive, as if written by someone in a hurry.
A running thread in his letters is his inability to pay people for their services, whether they were lawyers defending him and the mission in a lawsuit over property rights or the workmen he hired to repair it.
His excuses for not paying the lawyers varied. He claimed ignorance of agreements, feigned illness, and said an accident prevented him from going to San Francisco, where he supposedly kept his money.
Du Lin claimed to have paid one of the workmen but refused to pay the others because they were "bad people, which I should have realized before it was too late." He noted this in a letter to Nobili, dated March 22, 1852, regarding "difficulties" with the employees and said that they hired a lawyer when he refused to pay them more than what he promised.
"You do not need to be concerned," he assured Nobili. "Those people will learn the lesson they deserve, without any compromise to my dignity as a man and a priest. I will learn from this lesson myself: to be on guard against these workers who in this country exploit the goodwill of honest people."
The workmen disagreed on who was exploiting whom. Some, including Eduard Baron*, appealed to Bishop Alemany to help them recoup their unpaid wages, prompting the bishop to send Father Langlois as his envoy to investigate.
The matter weighed heavily on the bishop, even as he left Monterey for New York a few weeks later. In a letter to Nobili, dated April 22, 1852, from Navy Bay near Chagres, Panama, he suggested moving the troublesome priest to another assignment where he would not be in charge of a church:
"As to Father Dulin [sic], he seemed to me to do so well for the times," he wrote. "Lest if you find necessary to have him moved, at least in the capacity of Pastor, ask that change from (Father) Llebaria, to whom I explained all the particulars of that Mission and (of) the expediency of your cooperation in that place brought to such critical circumstances."
Undeterred, du Lin continued to ignore his debts. His carelessness with money and his apparent disregard for the orders of his superiors eventually aroused the fury of the even-tempered Nobili.



* Note: Historical documents reveal that after arriving in the United States from France in 1849, Joseph Edouard Baron dropped his first name so that he was known as "Eduard, " a simplified variation of his name that left out the "o" from the French spelling. In Arizonan and Mexican historical documents, his name took on the Spanish version of "Eduardo." This article uses his preferred name, Eduard.
Works Cited
Alemany Letter re: Vallejo, Dulin, and Mission San Jose. August 4, 1851. Archives and Special Collections, 3DB01 Papers of John Nobili, S.J. 1851 – 1856, Santa Clara University.
Letter of Recommendation Re: Dulin. Archives, Archdiocese of San Francisco.
Dulin Letter re: Difficulties with Workmen. March 22, 1852. Archives and Special Collections, 3DB1 Papers of John Nobili, S.J. 1851 – 1856, Santa Clara University.
Alemany Letter re: Replacement of Langlois by Llebaria. April 22, 1852. Archives and Special Collections, 3DB01 Papers of John Nobili, S.J. 1851 – 1856, Santa Clara University.
Next: Part 6: Answering to God and Man
To read all the episodes in this series or to find other stories about the Baron family, click here.
Copyright © 2021 Linda Huesca Tully
Tagged: Tags Eduard Baron