The Carpenter of Mission San Jose
Joseph Edouard Baron (1825 – 1921) *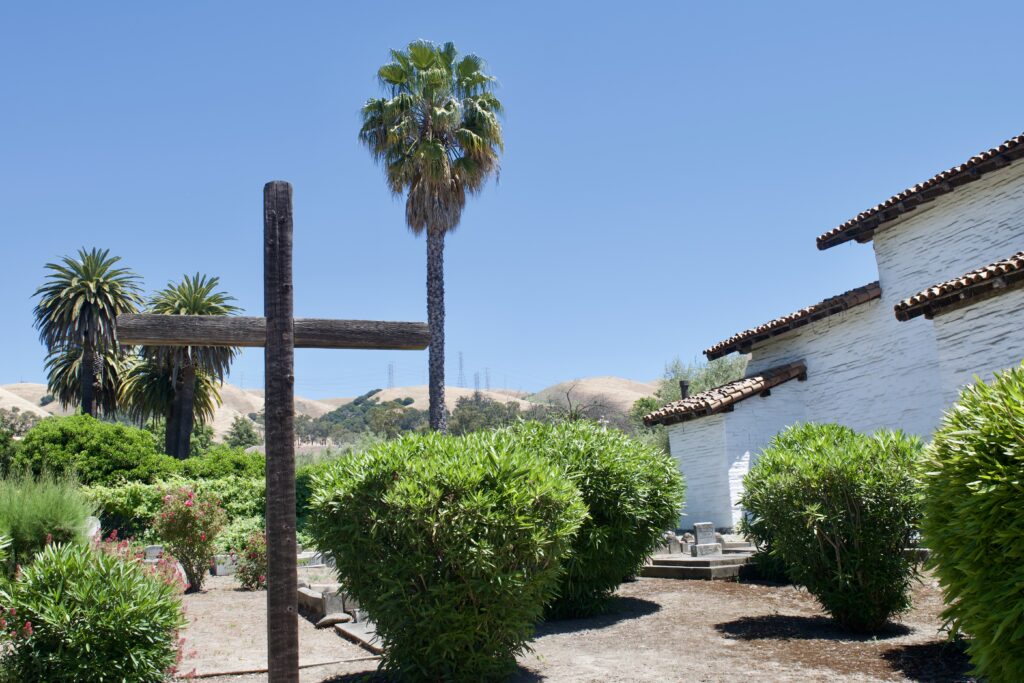 If you have been following the story of my husband's great-great-grandfather, Eduard Baron*, you know that he and four of his co-workers, all French carpenters, appealed to the Bishop of Monterey after they were denied wages for their work on the restoration of Mission San Jose. In late May 1852, the Bishop's delegate in the matter, Father John Nobili, wrote to the mission curate, Father Joseph du Lin, reprimanding his actions. Nearly a month later, he received word that the French priest had quietly disappeared.
"Father…has been absent for eight or nine days, due to debts he had …of about 7 or 8 thousand piastres**," wrote another Jesuit, Father Peter de Vos. "The good people of the mission are urging that they be sent a good priest from Santa Clara or San Juan Bautista and by Sunday. There is no one there for Sunday."
The pastoral needs of the faithful being the church's utmost priority, two priests were dispatched to the mission straightaway. Father Anthony Langlois, the pastor of Saint Francis Church in San Francisco, was named temporary administrator, aided by Father Dominic Blaive, a French pioneer priest based in Stockton.
Meanwhile, the bishop's aide, hopeful that du Lin had returned to the parish, sent him a warning to pay his debts or have his priestly faculties removed:
My dear Sir,
Following my last interview with you, I was visited by many people from San Francisco, who asked me how they could be paid what you owe them. I am sending you two letters written by them that have gone unanswered.
But my decision is made, to recommend that you pay these debts, and right away to cease all work at Mission San Jose, so that upon receipt of this letter, if you continue one single day, to hire one single man within the actual property limits of the Mission, ipso facto, you will suffer the pain of Ecclesiastical suspension, that is, of all your exercise of Ministry.
I assure you, my dear Sir, that it pains me greatly to proceed thus. Still, I am also overwhelmed after several days of these unwelcome visits paid me and from hearing certain words against you that dishonor the Ecclesiastical state.
Adieu, my dear [Father] Abbot, with the affections of your humble servant.
(signed) G. François Llebaria, V.G.
The reverse of the letter contains a note of reference, presumably written sometime later, in Father Nobili's hand: "Dulin [sic], Llebaria, Blaive. Trouble in Mission San José."


* Note: Historical documents reveal that after arriving in the United States from France in 1849, Joseph Edouard Baron dropped his first name so that he was known as "Eduard, " a simplified variation of his name that left out the "o" from the French spelling. In Arizonan and Mexican historical documents, his name took on the Spanish version of "Eduardo." This article uses his preferred name, Eduard.

** Piastres was the original French word for American dollars.
Works Cited
de Vos Letter regarding Dulin (sic) disappearance. June 21, 1852. Archives and Special Collections, 3DB01 Papers of John Nobili, S.J. 1851 – 1856, Santa Clara University.
Llebaria Letter re: Dulin's (sic) debts 1. June 24, 1852. Archives and Special Collections, 3DB01 Papers of John Nobili, S.J. 1851 – 1856, Santa Clara University.
Next: Part 8: "The Debts are Higher than We Thought"
To read all the episodes in this series or to find other stories about the Baron family, click here.
Copyright © 2021 Linda Huesca Tully
Tagged: Tags Eduard Baron Jules Audrain