Benita (McGinnis) McCormick (1889 – 1984)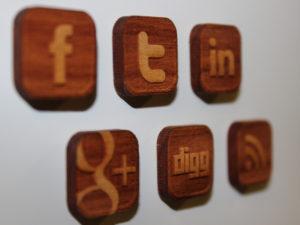 Photo:  Alan Reeves.  Creative Commons; in the public domain.

Like any good social media maven, Benita McCormick had a wide circle of "followers" in the mid-1970s. They visited often and posted witty messages on her wall, eager to read and "like" what others had left there before them.
Most were anonymous, but some left names, initials, or tell-tale handwriting styles by which to identify them. There was no counter to show how many "friends" or "followers" Aunt Detty had, who they were or how they were related, no profiles or status updates.
You had to get that from actual conversation.
If this seems incongruous, you're right. We are talking about social media in the mid-1970s, decades before high-technology geniuses invented personal computers or dreamed up the term or even the concepts of  "Facebook," "Instagram," and "Twitter."
You see, to view my Aunt Detty's "wall," people had to visit her at home in San Mateo, California. The way it typically worked was that after exchanging pleasantries, most people excused themselves briefly from their gracious hostess and made a beeline for the bathroom.
Yes. The Bathroom.
Aunt Detty loved art in every form and believed people should not just look at it but participate in it and have fun in the process. Taking her philosophy to heart, she covered a bathroom wall facing the toilet in bright floral wallpaper from from floor to ceiling, drawing a white picket fence over the bottom half so the flowers were visible between the slats. At the edge of the fence she hung a pencil on a string for her "guests," inviting them to not just sit there but get "inspired."
The McCormick's bathroom was a "must see" destination for her visitors. People young and old spent their time in the "throne room" reading the latest postings and the rest of the time adding their own contributions: daisies peeking over the fence, silly faces, and a variety of good-natured sayings. The postings, of course, were light-hearted, respectful, and proper, befitting their 80-something-year-old residents.
It was not unusual to hear howls of laughter from men and women alike behind that door.  Such a conversation piece it was! Even the most introverted visitors had something to say after visiting "the fence."
I've drawn my own elementary rendition of that fence here with some the actual postings as I remember them. I won't tell you which saying was mine.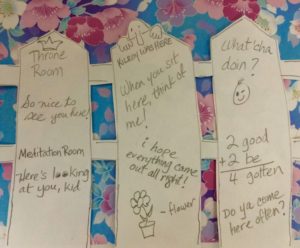 My rendition of Benita McCormick's 1970s "social media" wall.
Yes, Kilroy was there, too!
Happy Friday, everyone.
************
Copyright ©  2016  Linda Huesca Tully